The Dating South African Review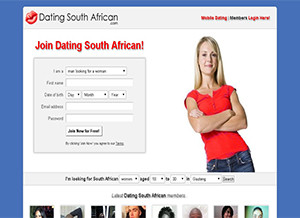 Website Name: TheDatingSouthAfrican.com

URL: http://www.datingsouthafrican.com

Description: The Dating South African website is focused on South Africa and using it allows profiles to be viewed across the country or just in your province. Although it does not say how many , there must surely be thousands of profiles for each province of the country and a simple browse gives pages and pages of potential matches and opportunities to meet single girls and single men.
Using the focus on South Africa, the website also allows the usual personal details but also allows profile matching with others who are single and looking to get online romance or their perfect match. I particularly liked the Howzit welcome email when you set up your profile and the personality and lifestyle section to put more individuality into your profile.
The options to search by compatibility factors as well as simple search through all profiles in your area with or without photos helps you to find love on line or even just make friends on line. This website is also well used for a man seeking man or women's singles to gain a partner for life.  The profiles allow for simple or complex descriptions of why you have the profile, what you are hoping for if you find a partner and what to expect from you. The website has a very good feel to it and seems a great south African online dating website to meet new people through.
There is a membership option for R95 a month, which is quite a reasonable price but for longer term packages it runs as low as R57.92 per month if you sign up for the full year. Membership does expand the available functions of the website, allowing an online diary to be kept, set up mobile alerts and more photos and messaging functions. Payment can be made by Visa or MasterCard.

Ease of use:  This website is very easy to navigate. There are top of page links to all the important information, simple logon details and easy browsing and searching functions with simple drop down options where suitable. The amount of different options to search by is only limited by the number of characteristics used in setting up the profiles. Photos are also clear and easy to see on all profiles.

Selection of profiles:  There are many thousands of profiles on the website and expanding rapidly. The options to for men and women to look for opposite or same sex people gives additional variety in the profiles and also allows great depth and range in the profiles to ensure the right match is made.

Star rating: 4/5. A very good site that is tailored to the South African single and probably one of the best online dating websites. The only drawback is that as part of the Global Personals group of company based in the UK the support is available at limited working hours. It is also worth noting that no frequently asked questions could be found on the website.

Contact details: Global Personals Limited, Minton Place, Victoria Street, Windsor, Berkshire SL4 1EG UK and email: support@globalpersonals.co.uk