LoveMail.co.za Review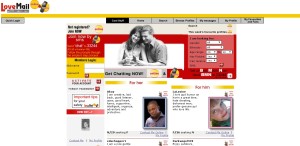 Website Name: Love Mail

URL: http://www.lovemail.co.za

Description: Love Mail is a fun filled, really cool and easy to use site to meet friends' online or finding single girls or to find a boyfriend. It is clearly South African focused and allows you to find your match based on some simple criteria without ruling out other options.
There are currently 52000 profiles on the site which although not huge is not small and allows for enough variety and choice. You can have the option to browse the profiles based on your sex and the sex you are looking for, nicely including men for men dating and opportunity for the girls who want to find an online girlfriend.
The website makes full use of mobile technology encouraging text messaging and communication direct to your phone – a great option for keeping in touch and not missing out on your perfect match or long term partner.
The display is very clear, easy to use and profiles are easy to read. Singles online can be seen at a few clicks and the nice touches around profile picture ratings, featured profiles as well as safety tips make you realize that they have tried to think of everything relating to online match making.
The website also has chat room facilities and a fun how hot application to rate photos with regard to their level of hotness. You can also add favourites to your profile and find out who is a fan of your profile to see if you are interested in taking things to a date.
The full package seems to have been pulled together on this website and the options for online dating that they convey could be laid down as an example for many others to follow and achieve a successful dating service to match up the lonely hearts of South Africa.

Ease of use: Very easy to use and clearly detailing where to go and what to do at each stage. Sign up is easy to follow and straight forward. The option to buy SMS packages is simple and payment can be arranged simply with the usual credit cards.

Selection of profiles: A good range of profiles with lots of relevant information and photos to browse through. There are options for every choice for men interested in women or men and women with both choices too. There are far more male profiles then female, but there are still a reasonable proportion of available hot young girls to look at.

Star rating: 4/5. This site has everything you could need to meet future husbands, friends or meeting a hot girl. You can use it via your mobile or online and mix and match both for the most benefits. Even having its own mobile internet site! The balance of fun and serious content is excellent and its apparent only cost is to buy SMS bundles for use with the mobile applications.

Contact details:
Junk Mail Publishing
Tel: 012-342-3840 Ext. 2804
Fax: 012-342-1842
Support Email: lovemaster@junkmail.co.za
Physical Address: 1312 Pretorius Str, Hatfield, Pretoria
Postal Address: P.O. Box 6574, Pretoria, 0001