DatingGroup.co.za Review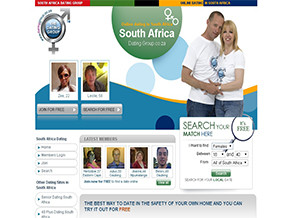 Website Name: The Dating Group

URL: http://www.datinggroup.co.za

Description: The Dating Group is a good quality online dating website for meeting single girls and single men alike. It has a South African focus although part of an international group.
Quite user friendly with simple searches and more detailed searches available to try and find your route to online romance or meet up for an online date. There are a reasonable number of profiles on this website, although you cannot determine the numbers very easily. It would imply that linking up with other group members may allow some flexibility with the membership numbers but there are plenty of profiles of people, who are single and looking to meet up for romance, find their perfect match or just meet new people.
There are no sign up fees apparently for the site, but it is frustrating that not much information can be seen without becoming a full member. The free registration will allow access to the majority of services but more premium services will require payment but no information is given at initial registration as to the prices required for this.
Nice clear profiles, lots of smiling happy pictures are featured and single ladies in South Africa can find a boyfriend in the safety of their home and with guidance about online dating safety and security, the website is very good at covering its moral requirements.
The website is equally useful for single men finding girlfriends online. The range of profiles and with the majority having profiles, browsing through galleries of photos can make finding an online husband or developing an online romance into a life partner that much easier.
The website will charge for additional services and it's not clear what that will be. Whether the free services are enough for most people is difficult to agree, but I would think this to be the case for the majority.

Ease of use: A pretty straightforward website to find your way around. The sign up page is simple to complete and details all required information. The galleries of photos are simple to browse through and the mixture of drop down fields for searches and optional inclusions enable a very comfortable and confident online dating service to be used.

Selection of profiles: There is not much information on the specific numbers of profiles available but it appears to be into the thousands and with the links to international groups the availability of profiles is quite significant. It looks like there are as many women as men from the simple searches conducted enabling a balanced range of available on line singles.

Star rating: 3/5. A generally good quality site that performs how it says it will and provides details of available singles for the area and criteria you set. You have to join up to get the full benefit and this leads the suspicious to consider the financial gains being engineered here. The lack of information without join up goes against the site but otherwise it is pretty good.

Contact details:  On line web form for members only. The Dating Group, Global Personals Limited, Minton Place, Victoria Street, Windsor, Berkshire, SL4 1EG.